Tempo di lettura:
5
minuti
How do we work in this emergency situation?? How do we organize our smart working? Come and discover it!
Smart working: from option to necessity
Smart working or agile work is an alternative way of performing one's job outside of working hours and locations, mainly through the use of technological tools. Characterized by a strong flexibility, it allows the worker full autonomy and responsibility for the results.
The first legislation on the subject began already in 2014 and then officially landed in Italy in 2017 with the Jobs Act. Due to the Covid-19 emergency situation, it was accepted only by very few companies and it has become the only working method possible to protect employees.
The difficult circumstance in which we are involved has required all Italian companies (public and private) to reorganize their working model, embracing this new philosophy which allows everyone to be able to operate more safely.
However, adopting the remote working approach requires organization and coordination, rethinking of its corporate structure, collaboration and, above all, avant-garde technological means and devices.
We at Sautech Group were ready!
If for some companies it was difficult to reconfigure their work structure, here in Sautech Group the transition to smart working was simple thanks to the flexible orientation that already permeates our corporate culture.
Personal technological devices, corporate VPNs already available and the constant use of means of communication (in particular Skype and Microsoft Teams) have allowed us to adapt immediately to the new emergency guaranteeing business continuity and the pursuit of our objectives!
Each employee works from his home and is in constant coordination with others while operating in complete autonomy and managing his tasks quietly. In short, only the workplace has changed but the organizational mechanisms have remained so!
Ourt smart day!
Our day starts as if we were in the office. The use of messaging platforms allow to communicate instantly to organize the first videocall of the day. Each division, through its own chat group, establishes the connection in order to plan daily activities, consult and update each other on the progress of the work and, why not, exchange a few words as from daily habit.
Automation & Robotics division, in addition to the ordinary workload, must also and above all guarantee remote necessary assistance for any looming problems. We are talking about a team that operates on Parcel & Postal systems at an international level, to which it guarantees maintenance through a truly advanced level of smart working system: personalized access to a cam system through which our engineers can have a look of together on the whole process of operation of the plant (handling of belts, sorting of parcels, possible errors, etc.).
For this reason, its components are in constant coordination in order to ensure efficiency and continuity of services.
Process Control division deals with the management and analysis of delicate processes and, unlike the others, continues to work not only from home but also in the field in order to operate quickly and guarantee the delivery of essential services such as, for example , the correct functioning of the water network of Apulian aqueduct. Of course, the components are equipped with all the safety measures provided for by the current decrees.
ICT Services division continues the software development and programming process from the comfort of home thanks to company laptops already equipped with the necessary programs to operate. Here communication through videocalls is even more dense given that the creation of a software requires the synergic contribution of all. Furthermore, the possibility of screen sharing of collaborative hubs such as Microsoft Teams is exploited to its own advantage: it improves the information flow and the learning skills, therefore also the training continues to go on!
Indeed, paradoxically it is precisely in this situation and with these tools available that the training of new talents reaches a higher level. It becomes focused, attentive to the smallest detail: young levers can only benefit from it.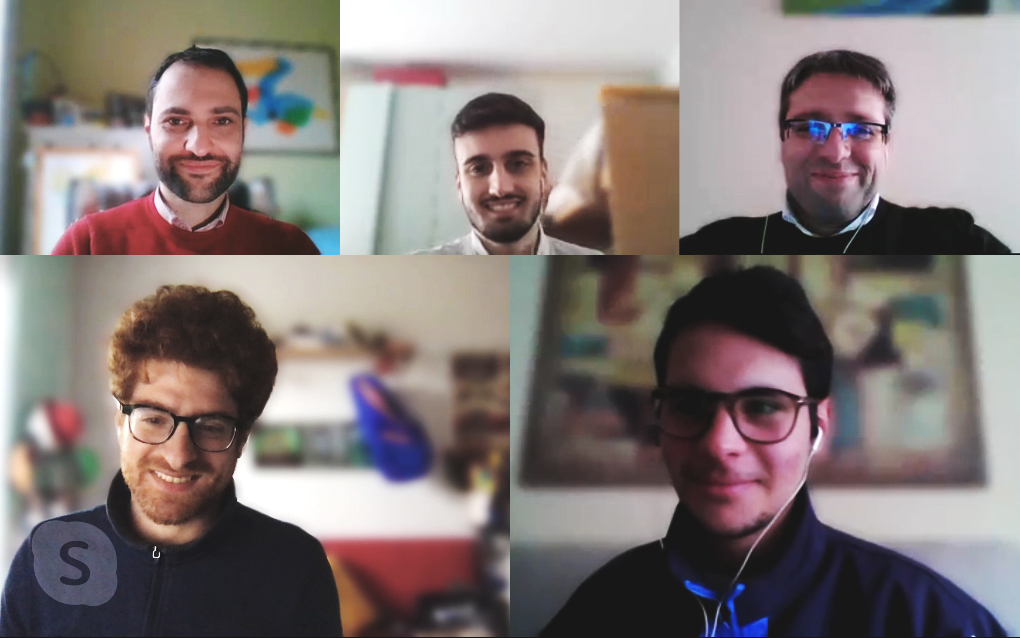 Marketing e Communication division continues its activity of creating and managing digital strategies through the updating and monitoring of existing websites and online marketing campaigns, both for external customers and for personal branding. The moments of discussion during the day are used to update, coordinate and evaluate the progress of own digital communication activities, as well as to probe the new opportunities offered by changes in the current market. The digital world never stops, it is constantly evolving and historical events such as the one in progress can determine its future trend.
But… not only work!
Our days are also enriched with moments of sharing to feed our interpersonal relationships and, above all, to give a little distraction from the workload. So go ahead for the virtual coffee break, with the sharing, in turn, of a piece of music to listen to all together.
In addition, since training is a Sautech Group cornerstone, the procedures to provide distance tutoring in collaboration with the Department of Information Engineering and Electrical and Applied Mathematics (DIEM) of the University of Salerno, are operational.
Our work and training commitment continues despite everything. The aim is to continue to promote digital change so as to be ready for the new national and international work context that will emerge once the health emergency will be over.